Exclusive Invitation to meet Dr. Pidgeon in person!
Introduction to the Eth CEPHER Conferences
Dr. Pidgeon will be traveling to Great Britain during the Spring Feasts this year, and is excited to introduce the את CEPHER Scriptures to our Brothers and Sisters in the United Kingdom. There is no registration fee; however, attendance is by invitation only. To reserve your seat for either April 10 or 11, please send an email to: sdr@soram.co.uk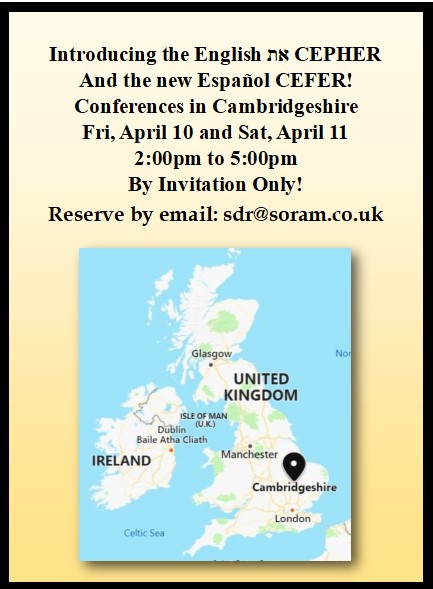 Sacred Word Revealed Conference
Join Dr. Stephen Pidgeon and other guests, in Atlanta, Georgia, March 27-29, 2020, for a weekend of fellowship and study, focusing on the Sacred Word of Yahuah Elohiym. For more information and tickets, click here.
Dr. Pidgeon will be baptizing individuals at the conference in Atlanta. Please Contact Us right away if you would like to included!
---
Dr. Pidgeon Live!
Join with like-minded believers every Thursday night at 5pm Pacific Time for Crossing Over, hosted by Jessica Arellanes. Each week we'll study a new topic relevant to the times in which we live. To catch up on previous episodes, click the image below.


Click Here to open the Crossing Over Playlist on YouTube.
Current News And Reminders:
The Español CEFER: We are now accepting Pre-Orders, with expected delivery in mid-May. Click here to pre-order yours today! You may subscribe to the weekly Spanish Torah Portion newsletter here.
As always, any questions you have for us directly, including customer support, can be asked through our website by clicking the CONTACT link located at the top right on our home page.
Shalom!

Dr. Stephen Pidgeon, President and CEO
Subscribe now to receive Stephen's new posts in your email inbox or other electronic device.